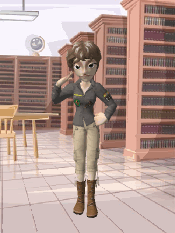 Wow, it's August 1st already. The summer truly seems to be slipping by. But as I look at all the new discoveries that
Julia
has led us to this past month (BTW: I love
Mr. Picasso Head
) I'm getting even more excited to see what Mary Kyle has in store for us this month.
Mary is a MacBook lover, but also plays a lot with Windows too. She is a Technology Assistant at
ImaginOn
's Tech Central and has hobbies and interests that "run to the enviroment and technology." According to Mary, what she likes "most about Web 2.0 is that it bridges the gap between the two operating systems since it runs in a web browser."
Please join me in welcoming Mary as August's Discovery Guide. I can't wait to see what she has in store.
PS: The image is Mary's Meez avartar. Want one of your own? Check out
Meez.com